Driftwood – photos of small driftwood pieces already sold
These photos of small driftwood pieces show coastal driftwood pieces that we have ALREADY SOLD.
Want to buy driftwood pieces? See our driftwood pieces for sale page or our special requests page.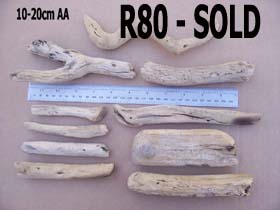 Small Pieces Sizes and Lengths
We collect coastal driftwood pieces on beaches in or near to East London in South Africa, and then divide them into lots of 10 or less, according to specific size categories based on length. Sometimes we'll have more than 10 small driftwood pieces in our special lots.
All of our pieces are considered small driftwood pieces of between 5cm in length and 80cm in length,
but we divide these small driftwood pieces further into different driftwood sizes.
The rulers that you see in the photos of our small driftwood pieces that we have already sold are 30 cm long and 60cm long. When we use just one ruler in a photo it is the 30cm ruler, and when we use two rulers in the driftwood photos, they are 30cm and 60cm long rulers.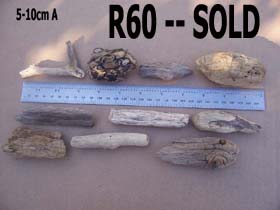 Prices
The prices on the photos of small driftwood pieces on this page – that we have ALREADY SOLD – are the prices for each lot of driftwood pieces. However, if somebody's single order (for perhaps a few lots of driftwood pieces) came to more than a certain amount, then they would have received a discount on these prices.
See our driftwood prices and discounts page to see how much has to be spent to qualify for certain discounts.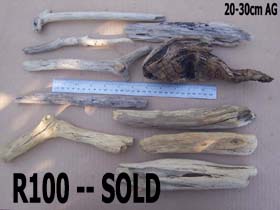 Our Sorting Process
– bring our finds home from the beach
– sort into different size categories
– sometimes separate some more special pieces from the more ordinary pieces
– after our driftwood treatment process, sort into lots per size category lot
– photograph the lots
– label and "file" the lots and the photos
Why take photos of our pieces?
We need to take photos to display the photos on our site, so people can see what they're ordering. We also need to have photos for when emailing people about their special request orders. We sometimes email one or two more photos of driftwood lots to special request customers so that they can choose their favourite lots.
Driftwood not ordered (by special request customers) can be offered to other people via email or can be displayed on our site for anyone to look at (should customers not choose all the lots we email them, we already have the photos to show other customers in the future).
By taking photos of the lots of driftwood pieces we also already have the photos to display on this page showing the lots we have already sold. Looking at photos of coastal driftwood pieces that we have already sold also gives potential customers a rough idea of what sort of driftwood they may get in their own order.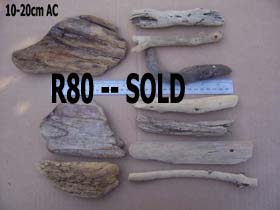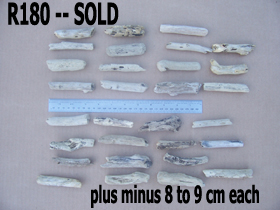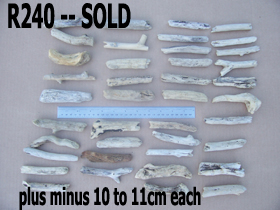 Why small pieces? Small pieces of driftwood are versatile – you can do so much with small pieces of driftwood. The driftwood pieces can be used in a wide variety of beach house decor projects or craft projects, or even in jewellery making projects. More people are able to work with small pieces of driftwood than with large pieces. For those people who cannot collect their own small driftwood pieces and need to order small driftwood pieces for their craft projects or decor ideas, smaller pieces are also lighter and thus cheaper to package and post than larger pieces are.
© Copyright Teresa Schultz and Tony Flanigan 2014
See more photos of driftwood pieces already sold on page 2